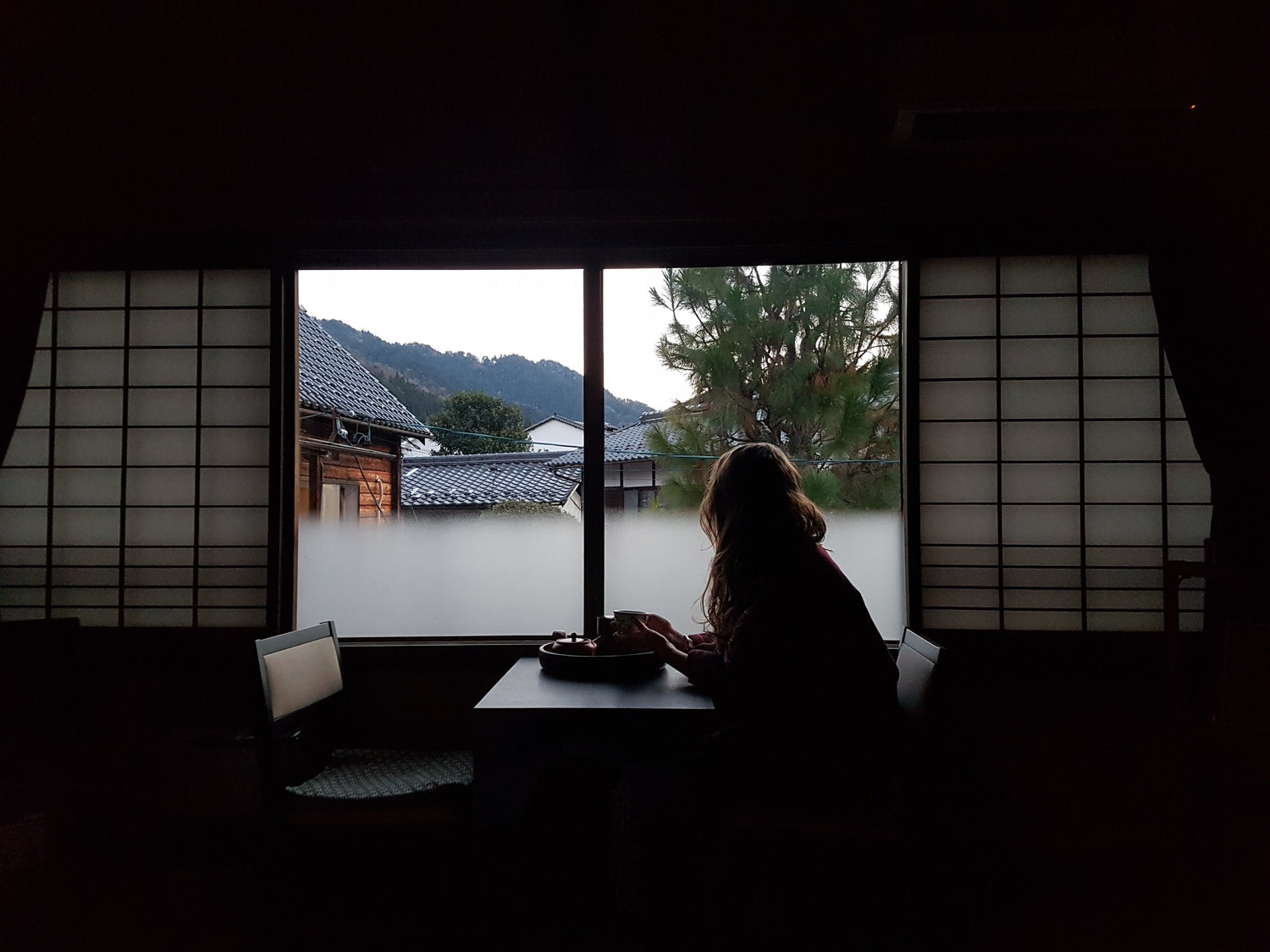 Japan
Most of you might know that our founder is extremely passionate about Japan and is often asked for tips and recommendations about general cultural behaviours, accommodations, restaurants, areas to visit,... so she has put a little something for you below to hopefully help with your future planning.
There is also something very special about her upcoming trip that will be announced soon, so keep an eye out!
Let's travel to Japan together
To me, being able to travel to Japan, see its beauty and experience its culture is an incredible privilege. It is without a doubt my favourite place on earth and every trip there has been life changing and deeply felt, I will always be grateful for any time I get to spend there. But planning such a wonderful trip can be a little daunting and also extremely time consuming.
After spending numerous hours, days, weeks, months even researching and finalising each trip down to the last details, I am happy to share with you some of my experiences and recommendations.
Here are the places I have been lucky to visit: Tokyo, Nikko, Tsumago, Magome, Kanazawa, Kyoto, Nara, Osaka, Koyasan, Yoshino, Yunomine Onsen, Nachi Falls, Ise, Iya Valley, Miyajima, Fukuoka, Hita, Beppu, Oita, Usuki, Yame, Saga, Imari, Arita, Kurokawa Onsen, Yanagawa, Aso-san, Kumamoto, and the Takachiho Gorge.
Our next trip has been finalised and we will go back to some of our favourite places but also add the following ones to the list: Shirakawa-go, Gokayama, Takayama, Uji, Wazuka, Ine, Kamakura, Takaragawa Onsen. We also have some incedible experiences to look forward to such as a private zen meditation and garden tour with a monk, attending a sumo tournament, an aromatic wood and incense making workshop, a pottery course, a private tea ceremony with zen philosophy discussion at a temple, and a tour of a tea plantation farm.
The unmissable
I totally understand that it can be hard to know what to choose and prioritise, especially as most people reaching out to me, tend to plan on going to Japan once in their life. I must warn you, my husband and I often joke that Japan has ruined the rest of the world for us because it is the only place we keep yearning to go back to. So below are a few unmissable cities I would definitely recommend to visit if you have never been there before but also some of my most cherished places to experience.
TOKYO
My absolute favourite area in this big city is called Yanaka. It is one of the few districts where an old town atmosphere from the past still survives with lots of artisans and hundreds of temples. Situated in Taito ward, it is within walking distance of Ueno park, and I can only recommend wandering around and getting lost into its rustic charms. Whenever we go, we have lunch at Kamachiku for some incredible udon overlooking a tranquil garden. Another restaurant I should mention because we had a lovely dining experience, is the one right next to the 47 Ronin temple. It is very quaint and little (only 3-4 tables by recollection) and is run by the cutest elderly couple. I cannot remember the name of it and you need to feel comfortable not knowing what you are ordering if you don't speak Japanese or like me simply pointing at the fake food samples outside in the window.
Side note - these fake meal representations are usually accurate down to the number of spring onion toppings you get and can be a great help when you want to eat in a more traditional restaurant and do not speak the language. I spend my time, gently and respectfully, communicating with sign language ('please follow me' little hand wave with a bow, 'I would like this dish' pointing at the fake meal prop, arigato gozaimasu with a bow and a warm smile).
Right, you cannot visit Tokyo and not see the famous Shibuya crossing! The way things just work in Japan is simply incredible and crossing that boulevard is definitely one of them. It is like a dance, for real, not a waltz for sure but like a contemporary one maybe. We tend to spend our first day in the Shibuya ward to get over our jet lag and stay awake as long as we can as it is super vibrant and full of shops (make sure to check the Muji store). We usually go for some ramen at Ajigen Ramen and again be prepared for an experience as you need to order your food with cash only at a vending machine. You then get a ticket that you give to the chef and they will place your food in front of you when its ready.
Same goes for these two famous streets Golden Gai and Shinjuku Omoide Yokocho. You must walk through them, I just love the atmosphere there with the lanterns and food stalls. I always wish I was fluent in Japanese (or more confident) to be able to just sit down like I belonged and order everything I see.
We also love visiting the Meiji Shrine and walking around Omotesando with its hipster trendy vibe. It is also where Afuri is (probably our favourite restaurant), we always go a few times to have their Yuzu ramen, try it, I promise you won't be disappointed!
If you want an incredible tea tasting experience in a stunning place, I highly recommend Yakumo Saryo or their sister house Sakurai Japanese Tea Experience. It is as beautiful and peaceful as it is divine.
We haven't visited Team Lab nor Nezu Museum and its garden yet but we are hoping to do so this time around.
Whenever we go to Tokyo, we try to stay in the same hotel, One@Tokyo. We like its design, functionability and the calm of its area. It is also not far from Asakusa known for its famous Sensoji temple.
Tokyo is hugely diverse and each area has something different to offer from Ginza the expensive shopping district, Akihabara the electronic one to Harajuku the young fashion and cosplay one.
KYOTO
I am not sure if I will be able to keep this one as condensed as it is unsurprisingly one of my favourite cities to visit. Kyoto is what you imagine and romanticise Japan to be like, or at least it was for me: old matchiyas, hundreds of temples, a place full of history, character and charms with beauty at every street corners and of course if you are lucky Geishas.
You need to bear in mind that everything is quite spread across the north, south, west and east of the city, and I find it to be the hardest place to plan to make sure we optimise our time fully by having the right itinerary. So you will need a bit of organising...
As you can imagine, it is very easy to spend your whole time visiting temples when you travel to Japan, as they are not only sacred spiritual places but also incredibly beautiful and peaceful. So in order to discover other part of this fascinating culture, I tend to prioritise my temples visits in Kyoto. Here are a few recommendations: Ginkakuji, Kinkakuji, Daigoji, Nanzenji, Kiyomizudera, Tofukuji, Kenninji, Kodaiji, Enkoji, and all the ones you can discover along the beautiful Philosopher's Path.
Kyoto being so wonderful and extremely touristic, I would definitely try to start your days as early as possible and if there is a temple you wish to visit go at the opening time.
My absolute favourite places to wonder around are Higashiyama Ward, Ninnenzaka, Sannenzaka, Ishebei Koji, Ponto Cho, Gion, Nishiki market, the Philosopher's Path and the Nakagyo Ward for some shopping. No matter where you go and what you do in Kyoto, it is impossible not to fall in love!
If you are up for a little trek, Fushimi Inari Shrine is worth the experience, especially if like me you loved the movie (and book) Memories Of A Geisha, you will know which scene I am talking about. The Arashiyama Bamboo Groves is definitely beautiful and if it is windy, the sound of the bamboo dancing with each other gives a lovely melody. If you go, I highly recommend having some delicious soba at Arashiyama Yoshimura.
We also did a pottery course and made two ramen bowls (with some help thank god) at the Kashogama school, which was really lovely and also it is so nice to receive it a few weeks later when you are back at home reminiscing about your trip and missing Japan tremendously.
We haven't tried these restaurants yet but we are planning to this time around: Honke Owariya, Suba Soba, Omen Udon and Hinode Udon.
There are plenty of incredible accommodations on my dream list for Kyoto (fingers crossed one day we win the lottery) but here are the two we stayed in that were really lovely and more budget friendly. Hotel Resol Kyoto Kawaramachi Sanjo, now you need to know I am very sensitive when it comes to scent and I will never forget the fragrance when we first stepped foot into the entrance. The room was full of this incredible essential oil aroma and well, I had to buy a few bottles to bring home... We also stayed at the Mitsui Garden Hotel Kyoto Sanjo, that has a beautiful glassed little garden in their entrance and great umeshu (plum wine) at the bar. Mitsui Garden Hotels are also a chain and we will be staying at one of the Tokyo ones during our up coming trip. This time around in Kyoto, we will be staying at Rakuro from another chain called The Share Hotels.
KANAZAWA
Now Kanazawa is like a little Kyoto but with much less tourists, or at least it was a few years ago... It has two areas that have preserved true historic atmosphere and beauty. The Chaya District, with teahouses where you can enjoy Geishas' singing and dancing performances, and Nagamachi, the former samurai district, with private residences open to public. These districts are not too big, so I simply recommend to wander around them and pop in and out the different places you wish to see.
Kanazawa castle is also very impressive but for me the star of the show is the Kenrokuen Garden. It is supposedly classified as one of Japan's three most beautiful landscape gardens and I am not one to challenge this statement. Our visit was made even more special for me as heavy snow started to fall and well I was simply transported. But I can imagine it to be spectacular during any season and I am looking forwards to go back. There is also a lovely teahouse in the garden where you can enjoy some matcha and wagashi.
I am also excited to discover the D.T. Suzuki Museum for the first time, nothing to do with the car manufacturer but a prominent Buddhist philosopher.
We stayed at the Kaname inn Tatemachi which has a great lounge area with an impressive vinyl collection and amazing music taste (and I must admit I am very picky when it comes to music). I spent most of the evening shazaming the songs and made a Japan playlist on Spotify that transports me back every time I listen to it. This time around we will be staying at the Kumu, which is also part of the Share Hotels chain mentioned earlier.
KOYASAN
I promise I am not going to talk about my dog nor my favourite udon restaurant in London. No Koyasan should definitely be on your list if you wish to experience something deeply spiritual and unique.
Also known as Mount Koya, it is the birthplace of Shingon Buddhism, introduced in 805 by Kobo Daishi, and is considered to be one of the most sacred places and pilgrimage spot in Japan. It is also one of the best places to experience shukubo, an overnight stay at a temple lodging where you can get a taste of a monk's lifestyle, eating their vegetarian cuisine, attending the morning prayers and if your temple offers it, a guided tour of the Okunoin Cemetery at night.
I am not a religious person but I must say, I always feel quite spiritual whenever I am in Japan. The peace of this otherworldly place, the beauty of the old cedars, the 200,000 tombstones erected over the centuries, the privilege to stay at a temple and share a prayer with the monks, is something engraved in me forever and I hope to go back again.
Although it is feasible to get there by transports, it can be quite time consuming and a little tricky so I would recommend renting a car if possible.
TSUMAGO-MAGOME TRAIL
Another great experience is walking the Tsumago-Magome trail, two historic postal towns along the old Nakasendo, the route that ran along the Kiso Valley and connected Tokyo with Kyoto during the Edo Period. The walk is relatively gentle and goes through the forest and countryside, it is also well marked in English, about 8 kilometers long and takes around 2-3 hours to walk at a leisurely pace. At around the halfway point there a traditional house perfect for a little rest, some snacks and Japanese tea.
We decided to start the trail early morning from Tsumago so we stayed there the night before at the Fujioto Ryokan Inn. It is run by a lovely couple who have lived in Italy for many years and came back home to take over the family business. They are both very welcoming, the food was deliciously cooked by the wife, the husband is a super friendly host, who likes to share stories and proudly explains all the local dishes from the menu. You also get to wear a traditional yukata if you wish to and sleep on the most comfortable futon. When we were ready to leave, the husband wished us bon voyage, gave us some lucky charms and also wrapped some ropes around my boots because he predicted that it was going to snow and be icy during the trail (and it was indeed), which was ever so thoughtful of him.
I am very glad we stayed in Tsumago the night before, because we got to walk around this gorgeous little town in the evening which was completely empty at that time of the day, the atmosphere was pretty special and the air so pure to breathe.
Side note - when you plan on staying at a traditional Ryokan, always make sure to read the small prints and rules of the establishment. Most of them have a traditional dinner and breakfast included, but only at specific hours of the day/evening and will not provide options for different diets, it is usually a set menu of multiple small dishes and no changes are possible. Some of them also only have shared bathrooms and toilets (men and women separately of course).
KUROKAWA ONSEN
One last favourite stay I would like to mention but that is not on the Honshu island, is Kurokawa Onsen, situated on Kyushu, the south part of the country.
Experiencing an onsen - a natural hot spring source from volcanic water, yes it is bloody hot - is something you should try when you go to Japan. Hot spring baths can be enjoyed in different ways indoors or outdoors in most ryokans, some hotels and public baths. It is something people enjoy doing for the therapeutic properties of the water but mainly to relax and have a peaceful moment with themselves, like a meditation.
There are a few things you need to know about onsens and it can be extremely intimidating!
In most establishments, you will find separate women's and men's onsen baths to respect people's nudity but some are also mixed. Tatoos are usually forbidden so make sure to check beforehand if you have any and swimwear are definitely not allowed. You can also find some private onsens in Ryokans and other hotels which are quite lovely to enjoy as a couple. If you do go for an experience please make sure to read the code of conduct that will be provided (often in the form of little drawings) as there are rules to follow, like for instance you need to shower before entering the natural water source!
Right, back to Kurokawa, one of the most attractive hot spring towns north of Mount Aso that conserved a beautiful traditional atmosphere. The town center, located in a forested valley, is full of Ryokans and public bath houses. Staying guests naturally have the opportunity to enjoy their own Ryokan's baths but note that it is also possible for overnight visitors and daytrippers to explore other baths in town and Ryokan's during daytime.
Now I am not going to lie and pretend I did it all because I am super self-conscious with my body image having a few extra kilos and although I know most of this is in my head and people genuinely do not even look at you (it's not some thermal spa), I didn't do any of the public baths, and to be honest I do regret it a little because this place is extremely special.
My personal experience with onsens are private ones and also one memorable time for different reasons and I'll come to it don't worry ha and it has to do with the incredibly stunning Ryokan Sanga, where we stayed.
In all transparency, it is the most expensive establishment we have sayed in but gosh, our two nights there were worth every single penny, especially as it was a treat for our anniversary. The whole complex is simply sublime, the food was absolutely exquisite, seasonal and each dish was a piece of art (multiple courses dinner and breakfast included), the view from our traditional room was something else, the beauty of the different hot spring baths (private ones were available, unfortunately I didn't even dare trying to women's one), I mean everything was just perfect...
Right I know you haven't forgotten about the story, me neither don't worry so here it comes. The morning of our second and last day, which was also our anniversary, the kind receptionist mentions to me that because of the typhoon, all the onsen baths have been quite empty and that the men's one is becoming mixed for a few hours if I would like to join my husband (again side note, only men's baths can sometimes become mixed ones for a few hours, never the women's ones). So still a little timid, I ask my husband to go and check if the outdoor men's bath is empty and if so, I'll join him. We had the whole place for us two for three whole hours and soaking in this hot spring, nestled amongst the natural world of the surrounding forest and mountain, in the middle of a typhoon was absolutely magical, until the noise of the sliding door brought me back to reality ha.
I know you want the funny part of the story (the other memorable reason ha), so there it is, I gulped and turned towards my huband as I guessed a few naked men were about to enter and gosh all the insecurities and embarassment came rushing back. I didn't have my glasses on and to be honest didn't want to look so I asked Tom to let me know once they were all in the bath and 'safe' for me to make an exit, as I didn't want an awkward face to face. Once I received the all clear, a very shy and uncomfortably naked me tried to get out in a very unlady like manner thanks to the slippery rocks and being short sighted. Once out, I ran behind the wooden panel to put my yukata on and left half laughing half embarrassed. So there you go, definitely memorable... Tom kindly reassured me than none of the men even looked at me, as like I mentioned people are there to enjoy a relaxing moment for themselves and they are also extremely respectful.
I would like to finish this recommendation list by saying a few words about Nara Prefecture. Though my husband really enjoyed going to see the bowing deers in the main city, I did find it a little upsetting because some people just want that famous instagram picture and do not really care nor respect the animals and the environment. I understand it is a very popular and touristic place with cultural treasures but for me, the two places that I remember more fondly in this Prefecture were Yoshino and the Nachi Falls. They are a little more challenging to get to but if you have the time, I would definitely consider them.
Useful tips
It is not uncommon for shops or restaurants to only accept cash (if you do not want to walk around with cash on you all the time - even though Japan is probably the safest country in the world - do not worry there are plenty ATMs everywhere). When you handle money (same goes for credit cards), you place it into a little tray by the till with a gentle bow rather than giving it directly to the person and same goes for picking up your change or card back. If there is no tray, hold your notes or card with two hands and present it to the person, again with a gentle bow.
Tipping in Japan is not expected (and sometimes can be considered rude), attempts to leave a tip will almost certainly be turned down. It is thought that by dining out, you are already paying the establishment for good service and at the right price (even though I would usually be more than happy to pay double for the service and also what I eat, it's simply delicious and can be quite cheap).
You will rarely if not ever find a bin in the streets, so if you are like us and enjoy having a coffee, matcha latte or some onigiri on the go, be ready to carry your empty cups or packaging in your pocket or bag for a while. Please be mindful and respect the environment!
Always carry a pair of socks in your bag... Yes that is right, especially in summer when you are wearing sandals or flip flops as to be able to visit a temple, you will need to remove your shoes and it is a little more comfortable with socks on or warmer with an extra layer in winter. It is the same for some restaurants or hotels, where you might be asked to leave your shoes at the entrance or in a cabinet, in these cases you are often given Japanese sandals to wear so consider wearing shoes that are easy to put on and take off, trust me, there will be a lot of this happening.
Public transports in Japan are amazing and never late! Be aware of timing because if the train says it will leave at 9:32 the doors will be closing at 9:31 and the train will be leaving at 9:32 it is impeccably precise. Check the floor to spot the coaches numbers as it gives you a good indication where to stand on the platforms. I would also get a pasmo card (or alike) it is basically a top up card that you can use on buses and tubes (not too sure about trains). Note that if the gates are open at the stations you will still need to tap in as you will get stopped otherwise.
JR passes are great if you intend to travel a lot but they can be quite expensive so try to be a little savvy with your itinerary and how long you stay in each area, you can really make the most of it whilst also using the normal trains services. Note that you will need to get it activated at a JR pass station before being able to use it, we did ours at the Shibuya tube station and do not write any dates on it until you are ready to use it! There are multiple websites you can get yours, we used Japan Rail Pass by Japan Experience.
Renting a car is also very easy and quite useful to travel around, and since it is the same side as the UK it was less daunting for us, just make sure to get a good English GPS with it. We did it for two weeks when we visited Kyushu area and it was great. Please be mindful that things might be a little more complicated or might have changed since COVID and the system can be different from different countries. We only needed an international driving license that we could easily get from our local post office here in the UK.
If you take a taxi, do not try to open the door for yourself or the boot, it is considered quite impolite and you risk annoying the driver.
We usually also rent an internet box (from the same website as the JR pass) that you can both collect and drop off at the airport (or some collection points). In some hotels, you can also find a mobile phone for you to use outside that has internet, at no extra charge.
Inspirations
I could not have made these incredible trips without the inspiration and the recommendations of three incredible instagram accounts and wonderful people: Le Polyedre, Un Cercle and Mamie Boude.
I hope you have found this helpful and that if you do visit Japan, will have the most incredible time.
Iya Gallery Collections
Discover mindfully created abstract original ink & watercolour paintings and prints to bring some serenity and simplicity into your life and home.
See more